Randy Sandke Quartet - MNJC
Featuredmon06mar7:30 pmmon9:30 pmRandy Sandke Quartet - MNJCJohn C. Court Cabaret, 1265 1st Street, Sarasota, FL 342367:30 pm - 9:30 pm AreaSarasotaCost$34-39 TypeJazz,Music
Event Details

"Versatility and innovation are two terms that most appropriately can be applied to trumpeter Randy Sandke." Lew Shaw, Syncopated Times 2017

John Court Cabaret at Florida Studio Theater
1265 First Street, Corner of Cocoanut Ave
Doors Open for Dinner/Drinks at 6:30 P (priced separately)
Performance Begins at 7:30 P
Tickets Available Beginning Wednesday, January 4, 2023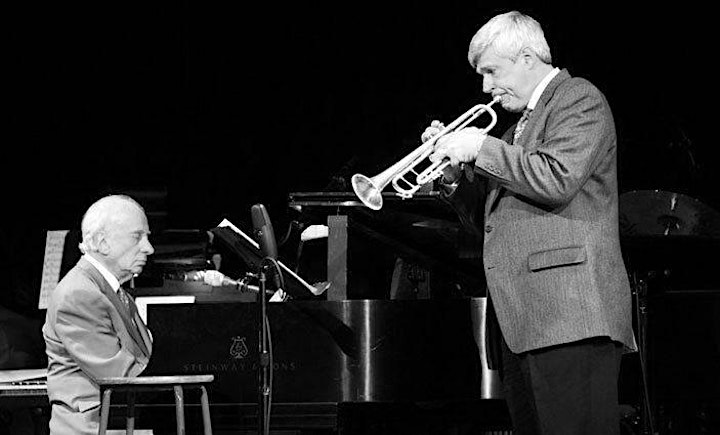 Dick Hyman and Randy Sandke perform "Ostrich Walk" on A Prairie Home Companion on May 8. 2010.
Randy Sandke
Excerpts From Wikipedia
Jay Randall Sandke (born May 5, 1949 in Chicago, Illinois) is a jazz trumpeter and guitarist.
While a student at Indiana University in 1968, he and Michael Brecker started a jazz-rock band (Mrs. Seamon's Sound Band) that performed at the Notre Dame Collegiate Jazz Festival. He was invited to be a member of the backing band for rock singer Janis Joplin, but a throat problem kept him from performing. Despite a successful operation on his throat, he gave up the trumpet, moved to New York City, and played guitar for the next ten years. When he returned to the trumpet, he became a member of the Nighthawks Orchestra led by Vince Giordano, followed by membership in Bechet's Legacy led by Bob Wilber. From 1984–1985, he was part of Benny Goodman's last band.
He has recorded over twenty albums as a leader, ranging from revisitings of music from the 1920s and 1930s to explorations of contemporary idioms in the company Michael Brecker, Kenny Barron, Marty Ehrlich, Bill Charlap, and Uri Caine. He became interested in exploring dissonant, nonstandard harmonies that lie outside of conventional triadic harmony, creating a musical theory of what he calls "metatonality", a harmonic system outlined in his book Harmony for a New Millennium.
He has led the New York All-Stars with Dan Barrett and Ken Peplowski, the Metatonal Band with Marvin Smith and Ted Rosenthal, and has done arrangements for the Carnegie Hall Jazz Orchestra. His writings include a method book about his "metatonal" approach to harmony.
His albums include Trumpet After Dark, a jazz-with-strings album that uses Renaissance viols instead of modern violins. Inside Out and Outside In bring together mainstream jazz musicians such as Ken Peplowski and avant-garde jazz musicians Ray Anderson and Uri Caine. His work appeared in the movies The Cotton Club, Bullets over Broadway, and The Curse of the Jade Scorpion.
Covid Requirements:
The Jazz Club of Sarasota follows CDC guidance regarding Covid safety policies. Facemasks are recommended but not required at this time. This policy could change as community health conditions change.
more
Time

(Monday) 7:30 pm - 9:30 pm
Location

John C. Court Cabaret, 1265 1st Street, Sarasota, FL 34236

1265 1st Street, Sarasota, FL 34236
Organizer
The Jazz Club of Sarasota is the most active jazz club in the United States, with over 75 concerts, It encourages the future of jazz… the original American musical art form.
Sarasota Events Calendar

Welcome to Sarasota Events Calendar - a community calendar for the best events in art, culture, food, wine and music in the Sarasota area and including events in Bradenton, St Petersburg, Venice, Nakomis and Tampa. 

Join our events community and then come out to these amazing events!

---