Wesley Chapel Fall Festival and HUGE Food Truck Rally!!!
Featured29oct(oct 29)11:00 am30(oct 30)6:00 pmWesley Chapel Fall Festival and HUGE Food Truck Rally!!!Tampa Premium Outlets11:00 am - 6:00 pm (30) AreaTampaTypeFoodCostFree
Event Details

Over 35 Food Trucks of all flavors, 2 stages, LIVE DJ, Live Bands, Plenty of Seating, Shopping Vendors, and Kids Carnival Rides & Play Zone.
The Wesley Chapel Fall Festival returns Oct 29th & 30th for our 18th year of fun and entertainment. The North Tampa Bay Chamber of Commerce invites everyone to join us for a family-friendly day of celebrations.
The Little Miss & Mister Pumpkin Pageant for kids. Parents can find information on the Facebook Page.
Our Pumpkin Patch will be open both days with proceeds benefitting Cypress Creek Athletic Booster Club.
Adult Beverages and Kids Zone Inflatable wristbands will be benefitting the Wesley Chapel Noon Rotary Club.
2 Stages with Live DJs, Live Bands, and Community Stages. Check out the MAIN Facebook page here for all the details.
Sunday from 4pm to 6pm we have the largest Trunk or Treat in the area.
Kids under 18 can enter the event for free all weekend. Adult entry is $10 cash at the gate and benefits two local charities – Celebrate Birthdays & the GFWC Pasco Juniors. Or you can purchase tickets online here on Eventbrite.
#followthepenguins on Facebook for special promo codes and announcements.
Fall Fest Carnival with Kids Rides & Games
This year we are bringing back the Wesley Chapel Fall Festival Kids Carnival with all new rides and games. Individual ride tickets will be available for sale at the event.
Fall Festival Food Truck Rally
We are bringing over 35 Food Trucks back this year with more variety and a whole new event layout with more seating and entertainment. Food Truck list subject to change. Food pictures and Vendor List on the Food Truck Fest Facebook Page.
• ChicaBoo Acai
• PJ's BBQ
• Meathead's BBQ
• Boss Lady Southern Eats
• TK-Oh Burgers
• Kravin Wheels
• That's Kickin' Chicken
• Charm City Eats
• Primo's Kitchen
• Cake Tails by Shatala
• Sugar Shack Donut Cafe
• Chocos Mini Donuts
• Sun's Just Egg Rolls
• World Famous Egg Rolls
• Let's Get Toasted
• Tornado Food
• Hot Diggidy Dogs
• Looshkos
• Hawaiian Honey Cones
• Carousels
• Hampton Chocolate Factory
• Squeezers
• Caseys Lemonade
• The Maine Thang
• Got Lobstah
• El Guero Tacos
• El Rancho Cafe
• El Mexa
• Quiero Mas Taco
• Dancing Empanada
• We Roll Fatty's
• Crays Kettle Korn
• Florida's Best Caribbean Seafood
• JT's Tropical Sno
• Seasoned Green
• Wingz N Thingz
• G's Wings N Things
• Royal ProjeX
• City Wings 305
• Micky's Rollin Bistro
• Shefu LLC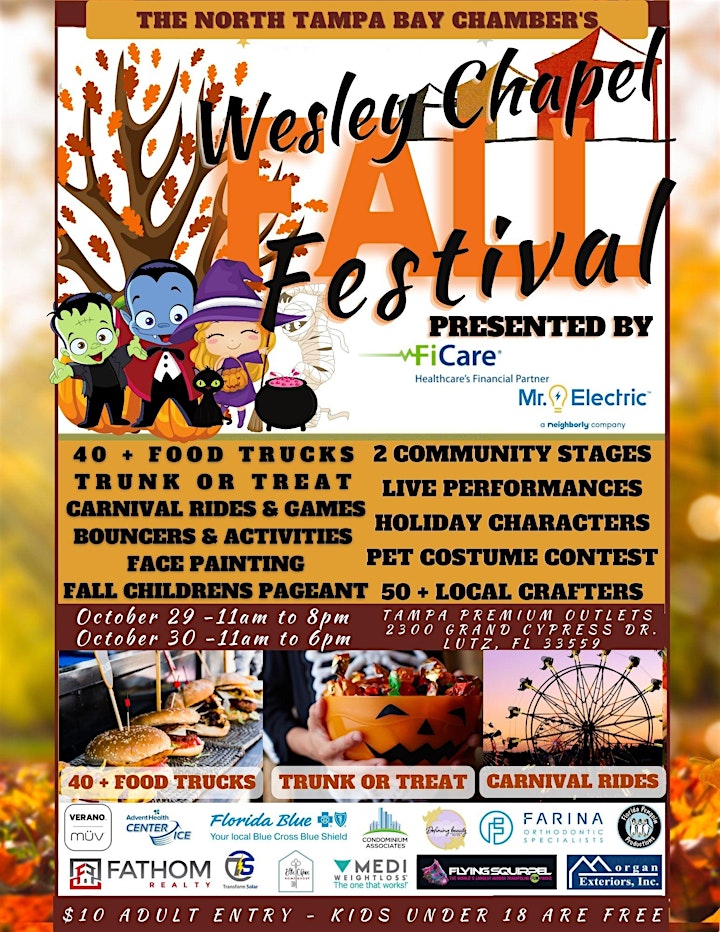 more
Time

29 (Saturday) 11:00 am - 30 (Sunday) 6:00 pm
Location

Tampa Premium Outlets

2300 Grand Cypress Drive, Lutz, FL 33559
Sarasota Events Calendar

Welcome to Sarasota Events Calendar - a community calendar for the best events in art, culture, food, wine and music in the Sarasota area and including events in Bradenton, St Petersburg, Venice, Nakomis and Tampa. 

Join our events community and then come out to these amazing events!

---