Street Corner Renaissance Concert
Featuredthu20apr7:00 pmthu9:00 pmStreet Corner Renaissance ConcertVenice Community Center, 326 Nokomis Ave S,, Venice, FL 342857:00 pm - 9:00 pm AreaVeniceCost$25-50 TypeMusic
Event Details

Imagine the Rat Pack with a soulful swag…
The music of the 60's & 70's?
Your first kiss.
The lyrics to all your favorite Motown era songs?

The Street Corner Renaissance Story is the story about 5 men committed to following a dream. The dream that life is not limited to what you see, but open to all that you believe. Combine those beliefs with incredible vocal talent, smooth harmonies, a polished Las Vegas style stage presence, and a repetoire of the greatest songs from an era where all songs told a story and touched the very heart and soul of the listener.

That is the essence of the Street Corner Renaissance Story. As a consumer of music, I loved these guys when I first heard them sing. That went through the roof when I heard them tell their story about being 5 guys who left their 9 to 5 jobs to pursue a passion that was burning inside of them.

That passion has taken Street Corner Renaissance around the world to perform multiple engagements in front of crowds of over 100,000 people, open for Jay Leno, The Temptations, Boyz II Men, Chuck Berry, Kool and the Gang, Morris Day and the Time, Jeff Lourber, and on and on and on…..

Street Corner Renaissance has performed on NBC's The Sing-Off and Dallas Today. PBS's Doo Wop Generations and the Holiday Celebration in Los Angeles. They have shared the stage with Stevie Wonder, Nancy Wilson, the O'Jays, Little Anthony, The Mighty Clouds of Joy, George Duke, and Freda Payne, just to name a few. Artistic Director and vocalist, Maurice Kitchen, recently recorded with Otis Williams' Temptations for their "60 ALBUM" featuring songs by and with the master poet and Motown legend, Mr. Smokey Robinson.

These cats can flat out sing! Their infectious energy and versatile show-set offers audiences an authentic/interactive street corner experience; combining the polish of a seasoned Las Vegas act replete with humor and masterful stage craftmanship.

Street Corner Renaissance will be your new favorite concert experience of the year!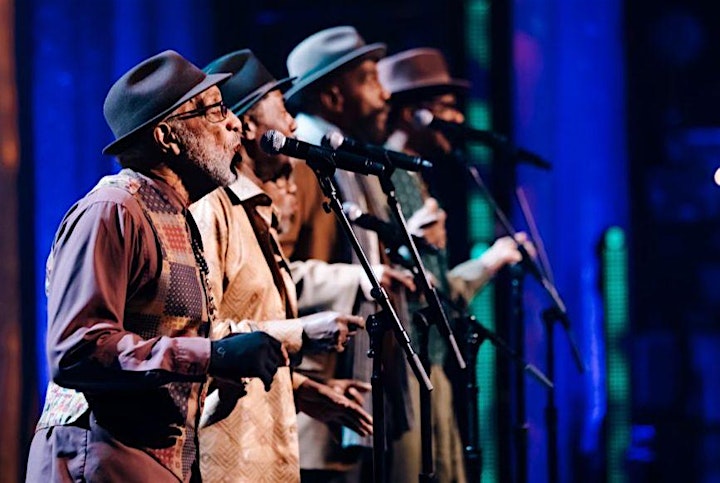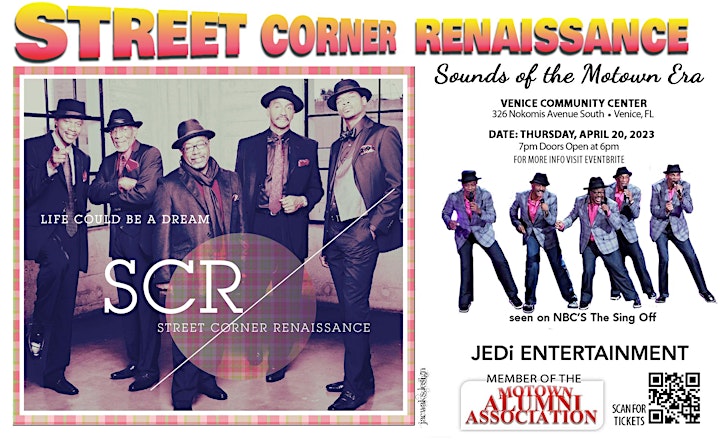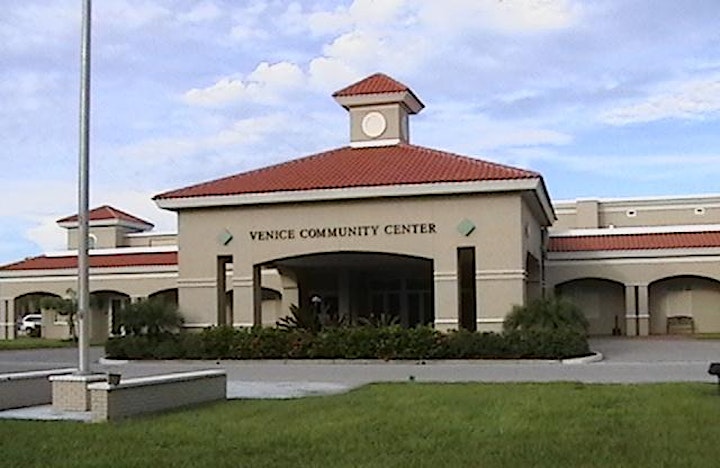 more
Time

(Thursday) 7:00 pm - 9:00 pm
Location

Venice Community Center, 326 Nokomis Ave S,, Venice, FL 34285
Sarasota Events Calendar

Welcome to Sarasota Events Calendar - a community calendar for the best events in art, culture, food, wine and music in the Sarasota area and including events in Bradenton, St Petersburg, Venice, Nakomis and Tampa. 

Join our events community and then come out to these amazing events!

---