Short Story Book Club "Milk Blood Heat" by Dantiel W. Moniz
Featuredwed01feb11:00 amwed12:00 pmShort Story Book Club "Milk Blood Heat" by Dantiel W. MonizBookstore1Sarasota, 117 S. Pineapple Ave., Sarasota, FL 3423611:00 am - 12:00 pm AreaSarasotaCost$17 TypeBook club
Event Details

The Short Story Book Club led by Bryn Durgin. This month's selection is "Milk Blood Heat" by Dantiel W. Moniz.
In this monthly book club dedicated to reading collections of short stories, February's pick is Milk Blood Heat, a livewire debut from Florida author Dantiel W. Moniz, one of the most exciting discoveries in today's literary landscape.
The benefit of our Short Story Book Club: If you only read one or two of the stories, you can still meaningfully participate and not worry about spoiling a book you're only halfway through. If you're not wild about one short story between the covers, chances are that you'll find at least one with which you'll fall in love.
We will meet in person at our new store location at 117 S. Pineapple Ave. The book club is $17 which includes your copy of Milk Blood Heat to be picked up at Bookstore1 any time before our meeting.
About Milk Blood Heat:
Milk Blood Heat depicts the sultry lives of Floridians in intergenerational tales that contemplate human connection, race, womanhood, inheritance, and the elemental darkness in us all. Set among the cities and suburbs of Florida, each story delves into the ordinary worlds of young girls, women, and men who find themselves confronted by extraordinary moments of violent personal reckoning. These intimate portraits of people and relationships scour and soothe and blast a light on the nature of family, faith, forgiveness, consumption, and what we may, or may not, owe one another.
A thirteen-year-old meditates on her sadness and the difference between herself and her white best friend when an unexpected tragedy occurs; a woman recovering from a miscarriage finds herself unable to let go of her daughter—whose body parts she sees throughout her daily life; a teenager resists her family's church and is accused of courting the devil; servers at a supper club cater to the insatiable cravings of their wealthy clientele; and two estranged siblings take a road-trip with their father's ashes and are forced to face the troubling reality of how he continues to shape them.
Wise and subversive, spiritual and seductive, Milk Blood Heat forms an ouroboros of stories that bewitch with their truth, announcing the arrival of a bright new literary star.
About the author:
Dantiel W. Moniz is the recipient of the Alice Hoffman Prize for Fiction, the Cecelia Joyce Johnson Emerging Writer Award by the Key West Literary Seminars, and a Tin House Scholarship. Her fiction has appeared or is forthcoming in the Paris Review, Tin House, Ploughshares, McSweeney's Quarterly Concern, and elsewhere. Milk Blood Heat is her first book. She lives in Northeast Florida.
………………………………………………………………..
All signed up and unable to go? Please let us know! Seating is limited and there may be people on our waitlist who would like to to take your place. Please send an email to bryn@sarasotabooks.com ASAP and hopefully we'll see you next time.
Click here to go to the Bookstore1Sarasota website.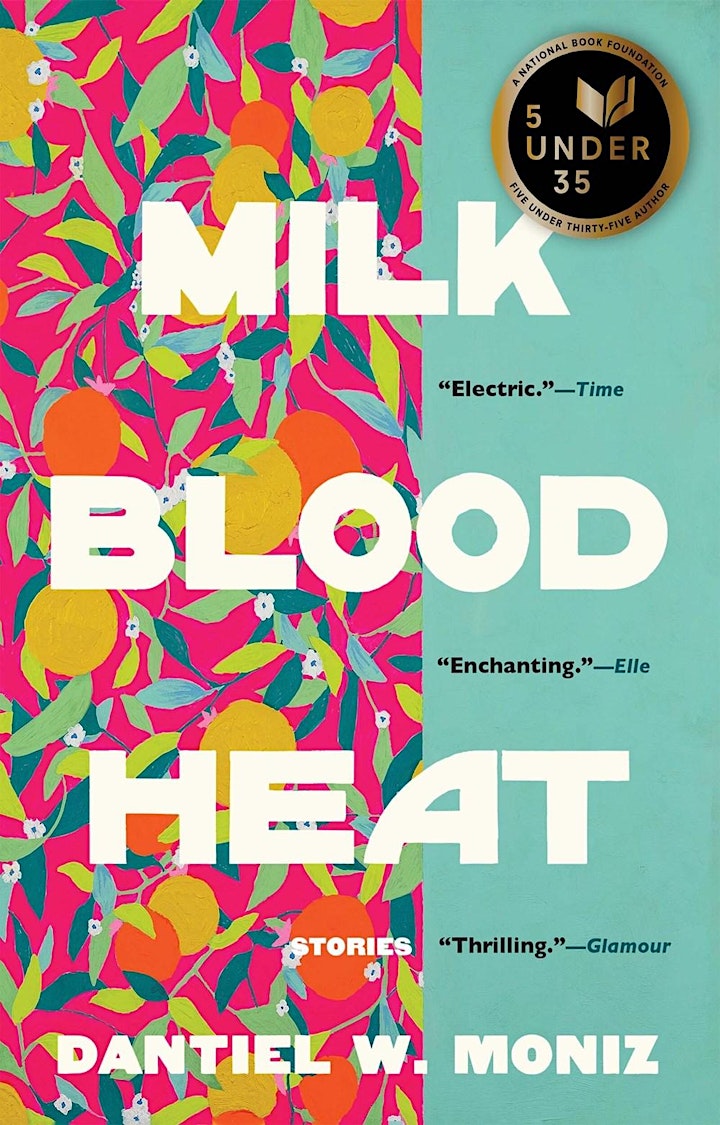 more
Time

(Wednesday) 11:00 am - 12:00 pm
Location

Bookstore1Sarasota, 117 S. Pineapple Ave., Sarasota, FL 34236

117 S. Pineapple Ave., Sarasota, FL 34236
Organizer
At Bookstore1Sarasota readers will find unexpected literary pleasures alongside their favorites, both new and classic. We feature a wide range of author events and offer customized literary event management. We are a place for celebrating the written word. Our motto: Joie de Livres. We love books and authors. Plain and simple.
Sarasota Events Calendar

Welcome to Sarasota Events Calendar - a community calendar for the best events in art, culture, food, wine and music in the Sarasota area and including events in Bradenton, St Petersburg, Venice, Nakomis and Tampa. 

Join our events community and then come out to these amazing events!

---