Círculo - Patrick Hagerman, John Holt III & Joshua Reilly
Featured15jan6:00 pm9:00 pmCírculo - Patrick Hagerman, John Holt III & Joshua Reillyin between days, 2340 1st Avenue South, St. Petersburg, FL 337126:00 pm - 9:00 pm AreaSt PetersburgTypeMusicCost$25
Event Details

SONGWRITERS CIRCLE – Círculo is an intimate listening series where songwriters tell the stories of their works and life on the road.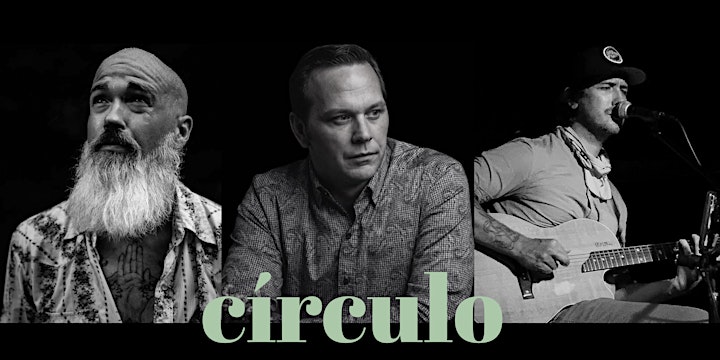 Join us for an intimate evening featuring three talented songwriters who will share their works as well as the stories behind them. Círculo Uno features the following artists:
Patrick Hagerman-
With more than 20 years as a songwriter, Patrick Hagerman is a journeyman of Florida's Americana scene. From his roots in the Midwest to his current home in Orlando, Florida, Hagerman is known for his gravelly baritone voice and heartfelt lyrics.
John Holt III-
John Holt III hails from the gulf beaches of St. Pete, Florida. Known for having an original songwriting style rich with thought provoking lyricism and colorful melodies. His crooneresque voice is both pure and unique. The same, if not more, can be said of this young man's organic yet complex fingerstyle guitar playing. Rhythm and blues, soul, New Orleans funk, Jazz, reggae, world, and classic country are some of the most obvious colors in his palate.
Joshua Reilly –
Raw yet refined, mournful yet optimistic, heartbroken yet inspiring… such is the dichotomy, the paradox, and the musical delivery of Joshua Reilly. Born, raised, and marinated on the cornfield-lined country roads of central Illinois, and then cultivated, ripened, and baked on the beaches and concrete swamps of Florida, Reilly understands hard times, he knows redemption, and this unfiltered honesty pours out through his music. It's a slice of life served clever and real.
This is an extremely intimate event with only 35 tickets available.
Hosted by In Between Days in St Petersburg, FL.
more
Time

(Sunday) 6:00 pm - 9:00 pm
Location

in between days, 2340 1st Avenue South, St. Petersburg, FL 33712
Sarasota Events Calendar

Welcome to Sarasota Events Calendar - a community calendar for the best events in art, culture, food, wine and music in the Sarasota area and including events in Bradenton, St Petersburg, Venice, Nakomis and Tampa. 

Join our events community and then come out to these amazing events!

---