8 PM SHOW - LAUGHTER in LWR at GROVE
Featuredsat21jan8:00 pmsat9:30 pm8 PM SHOW - LAUGHTER in LWR at GROVEGROVE Restaurant - Patio - Ballroom, 10670 Boardwalk Loop, Lakewood Ranch, FL 342028:00 pm - 9:30 pm AreaLakewood RanchCost$55-85 TypeComedy Show,Food
Event Details

January 2, 2023, 8 PM SHOW
Laughter in LWR!
An Upscale, Clean Comedy Experience!
You are purchasing non-refundable tickets for the January 21, 2023, 8 PM show.
All our shows at the GROVE Ballroom SOLD OUT quickly and received STANDING OVATIONS! Don't miss this event!
We're bringing laughter into Lakewood Ranch… AGAIN!
KNOCK OUT MARKETING & PR and GROVE restaurant have partnered to bring you an extraordinary stand-up clean comedy* event on Saturday, October 15, 2022 starring 3 HILARIOUS, HEADLINER comedians and an emcee.
We hope you'll join us to sit back and laugh with your friends!
• Come early and socialize.
• After the Show, meet the Comedians!
• A portion of the proceeds will benefit Forty Carrots Family Center. Forty Carrots' mission is to nurture healthy child and family development through research-based, relationship-centered education and mental health services. This organization does amazing things for the families in our community and we are happy to support their efforts.
Show Details
Start Time
Doors open 45 minutes prior to event start time. We encourage you to come early, visit with your friends, purchase beverages and relax.
Attire
Formal casual. (No beach attire, please)
Food and Drinks
• 3 cash bars and beverage servers available throughout the show. No drink minimum. Cash & credit cards accepted.
• There will be no food service at the event.
• Your ticket includes a 10% off voucher for GROVE restaurant. A confirmation will be automatically emailed to you after you purchase event tickets. This email serves as your voucher.
• GROVE restaurant reservations are strongly recommended the night of this event. Call Grove at (941) 893-4321 to make your dinner reservation!


Show Flow
• Once the event doors close, we ask that you please remain seated through the show.
• Continual show time is approximately 90 minutes. No intermission.
• Bar service was provided throughout the show. Please tip your servers.
• Seating: 3-foot round cocktail tables, each table seats 4 guests. Seats will be placed in a crescent pattern for optimal viewing.
Safety
• Room and tables will be sanitized prior to and in between each show.
• This is a show for attendees 21 years of age and older.
• Facial masks are not mandatory, however, should you choose, you can wear a mask.
• You are permitted to take photos/videos before and after the event itself. However, no photos, video or audio recordings will be permitted during the show itself. This is for the safety of all.
Photos/Video/Audio Permission and Tickets
• By purchasing a ticket, you are simultaneously providing authorization for photos, video, and audio to be recorded of you and your guests at the event. These photos may be used for promotional purposes and at the discretion of Knock Out Marketing, LLC, and Grove restaurant.
• Tickets are non-refundable. Should something arise that prohibits you from attending, please feel free to give your tickets to a friend under the ticket holder's name.

About The Comedians
Robert G. Lee
Robert G. Lee is a seasoned comic who comes armed with a refreshingly clean, relatable act. He's a sitcom warm-up trained to ad-lib off the cuff with any type of crowd. Robert has been entertaining audiences behind the scenes on Hollywood sitcoms such as "Golden Girls," "Wings" and "Old Christine" for over 3 decades! Whether delivering laughs nationwide on his DryBar comedy special, Siriusradio's Laughs USA, or writing punchlines for produce on "Veggie Tales," Robert'sclever, slice-of-life observational material along with his impish and punchy storytelling style is always a guaranteed audience pleaser!
Nora Lynch
Nora has been in comedy for more than 20 years. As a standup, she has made a number of TV appearances, including VH1's Standup Spotlight, A&E's Comedy on the Road, and VH1's Fools for Love. She works with clubs, cruise ships, and corporate events.
An accomplished TV writer & producer, Nora has written for all the broadcast networks, including ABC, NBC, CBS & FOX, as well as major cable networks, including Comedy Central.
Nora is also a web copywriter and editor. She was the editor-in-chief and co-creator of ThePetMatchmaker.com, a site that celebrated and inspired the rescue, foster, and adoption of homeless pets everywhere.
​She lives in Denver, CO with her husband, Phil Palisoul, Professional Comedian, and their rescue cats, Darla & Caboodle.
Vince Morris
Originally from Columbus Ohio, Vince Morris is one of the hottest up-and-coming comedy veterans on the scene today. No stranger to television, Vince has appeared on Showtime, B.E.T.'s Comic View, H.B.O's Def Comedy Jam, Sex and The City, CBS' Late Late Show, Comics Unleashed W/Byron Allen, and his own Half Hour Comedy Central Special just to name a few.
In addition to headlining comedy clubs, theatres, and his television appearances, Vince Morris has been featured at the very prestigious Montreal Comedy Festival, and the H.B.O. Aspen Comedy Festival. Vince has also been honored to perform overseas for the US troops in such places as Baghdad, Kuwait, and Japan.
Always speaking from his heart, Vince is dangerously funny. With his diverse style and original material, Vince appeals to audiences from all walks of life. Vince's unique ability to "switch gears," allows his comedy to go from "risqué" too squeaky clean, from personal to improvisational, from thought-provoking to just downright silly.
Predictably unpredictable, Vince is guaranteed never to have the same show twice!
This is a 21-year-old and over event.
* Clean Comedy is a comedy genre that is generally free of heavy profanity, obscenity, and similarly objectionable material.
THIS IS A NON-REFUNDABLE EVENT. Should you not be able to attend, please feel free to give your tickets to friends, under the ticket buyer's name.
KNOCK OUT MARKETING, LLC, and GROVE reserve the right to substitute talent, remove disruptive attendees, and/or change the room layout should safety become an issue.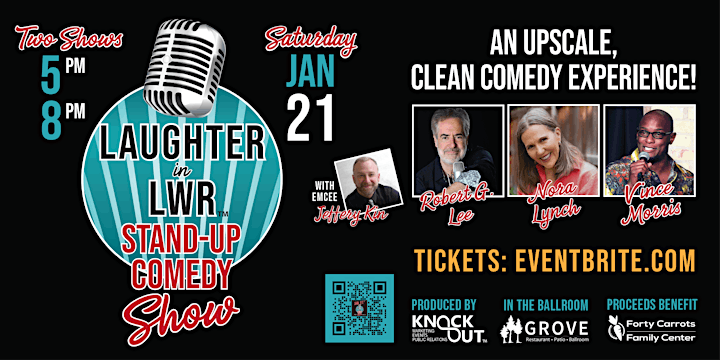 more
Time

(Saturday) 8:00 pm - 9:30 pm
Location

GROVE Restaurant - Patio - Ballroom, 10670 Boardwalk Loop, Lakewood Ranch, FL 34202
Organizer
KNOCK OUT MARKETING & PR is a creative marketing and events company.
Sarasota Events Calendar

Welcome to Sarasota Events Calendar - a community calendar for the best events in art, culture, food, wine and music in the Sarasota area and including events in Bradenton, St Petersburg, Venice, Nakomis and Tampa. 

Join our events community and then come out to these amazing events!

---